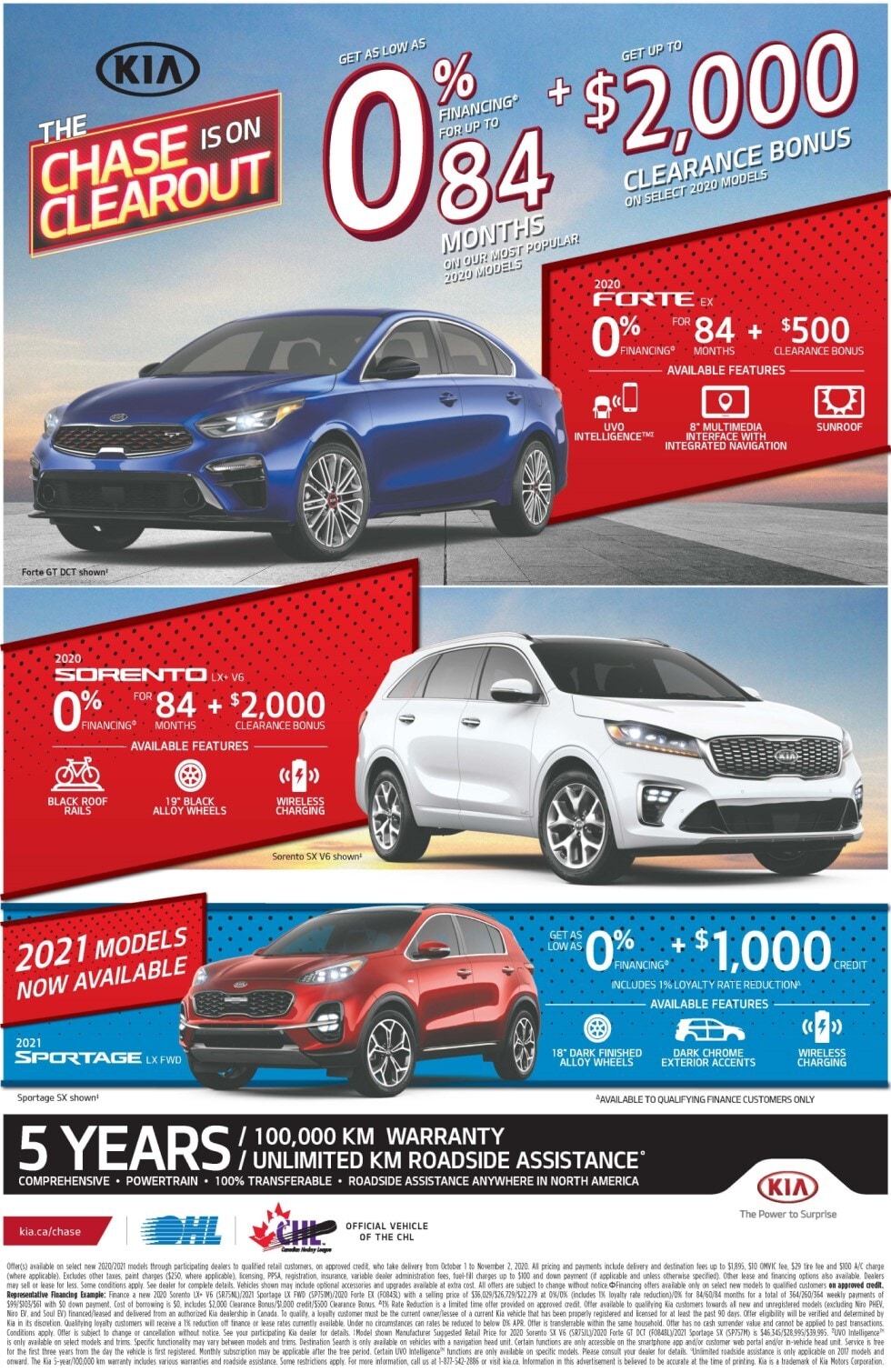 Offer(s) available on select new 2020/2021 models through participating dealers to qualified retail customers, on approved credit, who take delivery from October 1 to November 2, 2020. All pricing and payments include delivery and destination fees up to $1,895, $10 OMVIC fee, $29 tire fee and $100 A/C charge (where applicable). Excludes other taxes, paint charges ($250, where applicable), licensing, PPSA, registration, insurance, variable dealer administration fees, fuel-fill charges up to $100 and down payment (if applicable and unless otherwise specified). Other lease and financing options also available. Dealersmay sell or lease for less. Some conditions apply. See dealer for complete details. Vehicles shown may include optional accessories and upgrades available at extra cost. All offers are subject to change without notice.ΦFinancing offers available only on select new models to qualified customers on approved credit. Representative Financing Example: Finance a new 2020 Sorento LX+ V6 (SR75NL)/2021 Sportage LX FWD (SP751M)/2020 Forte EX (FO843L) with a selling price of $36,029/$26,729/$22,279 at 0%/0% (includes 1% loyalty rate reduction)/0% for 84/60/84 months for a total of 364/260/364 weekly payments of $99/$103/$61 with $0 down payment. Cost of borrowing is $0, includes $2,000 Clearance Bonus/$1,000 credit/$500 Clearance Bonus. Δ1% Rate Reduction is a limited time offer provided on approved credit. Offer available to qualifying Kia customers towards all new and unregistered models (excluding Niro PHEV, Niro EV, and Soul EV) financed/leased and delivered from an authorized Kia dealership in Canada. To qualify, a loyalty customer must be the current owner/lessee of a current Kia vehicle that has been properly registered and licensed for at least the past 90 days. Offer eligibility will be verified and determined by Kia in its discretion. Qualifying loyalty customers will receive a 1% reduction off finance or lease rates currently available. Under no circumstances can rates be reduced to below 0% APR. Offer is transferrable within the same household. Offer has no cash surrender value and cannot be applied to past transactions. Conditions apply. Offer is subject to change or cancellation without notice. See your participating Kia dealer for details. ‡Model shown Manufacturer Suggested Retail Price for 2020 Sorento SX V6 (SR75JL)/2020 Forte GT DCT (FO848L)/2021 Sportage SX (SP757M) is $46,345/$28,995/$39,995. ΣUVO IntelligenceTM is only available on select models and trims. Specific functionality may vary between models and trims. Destination Search is only available on vehicles with a navigation head unit. Certain functions are only accessible on the smartphone app and/or customer web portal and/or in-vehicle head unit. Service is free for the first three years from the day the vehicle is first registered. Monthly subscription may be applicable after the free period. Certain UVO IntelligenceTM functions are only available on specific models. Please consult your dealer for details. °Unlimited roadside assistance is only applicable on 2017 models and onward. The Kia 5-year/100,000 km warranty includes various warranties and roadside assistance. Some restrictions apply. For more information, call us at 1-877-542-2886 or visit kia.ca. Information in this advertisement is believed to be accurate at the time of printing. Kia is a trademark of Kia Motors Corporation.
*Kia Canada Advertisement
*All pricing listed in Kia Canada advertisements do not display "All-In Pricing" and do not include license, registration, insurance, PDE/PDI, freight or taxes and are extra unless indicated otherwise. The posted pricing often is the starting MSRP of all Kia models. Price subject to change without notice. Dealer may sell for less. Certain restrictions may apply. See your participating Kia Dealer for details or visit www.kia.ca. Please note: Vehicle manufacturers are exempt from OMVIC's All-In Pricing legislations and are not required to comply with the MVDA and all-in pricing is not required in their advertisements. For clarification in pricing differences between a manufacturer's advertisement and the actual purchase price of a new Kia model, please visit your participating Kia Dealer for full disclosure.
**All pricing listed in Cardinal Kia advertisements display all-in pricing in accordance with OMVIC legislation and exclude HST and licensing.
For full details about OMVIC's All-In Pricing, visit their website.